MAIN PATCHES RELEASES SHOP SHOWS CONTACT LINKS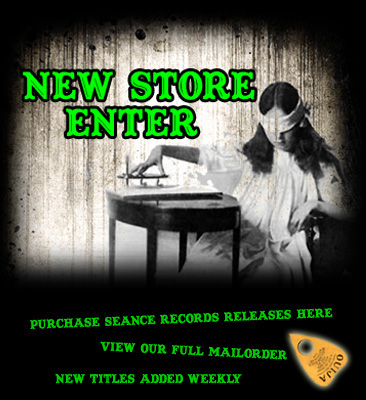 ____________________________________________________________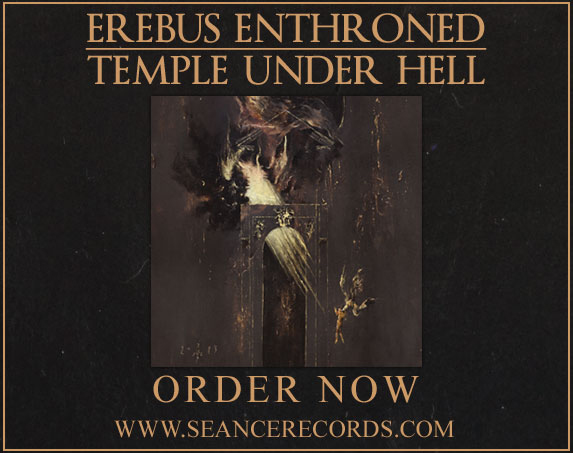 'TEMPLE UNDER HELL' by EREBUS ENTHRONED
ORDER NOW
Released by Séance Records on the 2nd of April 2014 closely followed by
a vinyl LP release through World Terror Committee on the 30th of April 2014.

This second work of torrid black metal delivers seven cruel hymns revolving around
sacrifice, transformation and illumination. The first new track to be revealed is entitled,
'Void Wind' now available to preview in full here - http://youtu.be/NQzMjas-SA4
____________________________________________________________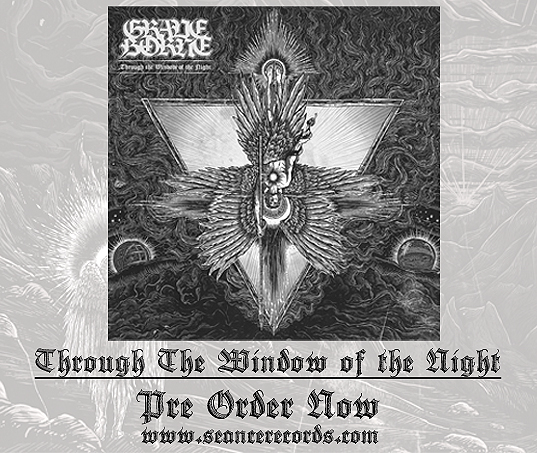 AVAILABLE FOR PRE ORDER NOW
Graveborne rise from the grave for their unholy resurrection on Séance Records!
The new album entitled, 'Through the Window of the Night' by the Finnish horde
will be channeled from the abyss by Séance Records in late 2013. Graveborne are a
black metal Leviathan rising from the darkness to reduce divinity to ashes & unleash
pure evil in the form of nine deadly psalms to Satan. Ferocious and uncompromising
Black Metal in pure 90's style that will shake the heavenly spheres joining destructive
melody with unrelenting heaviness. Beware this ungodly wrath in the vein of early
Immortal, Marduk, Dark Funeral & Dawn. Featuring members of Black Crucifixion
& collaboration with K-2T4-S of ..And Oceans.
Through the window of the night only darkness remains… and the darkness is coming!
_______________________________________________________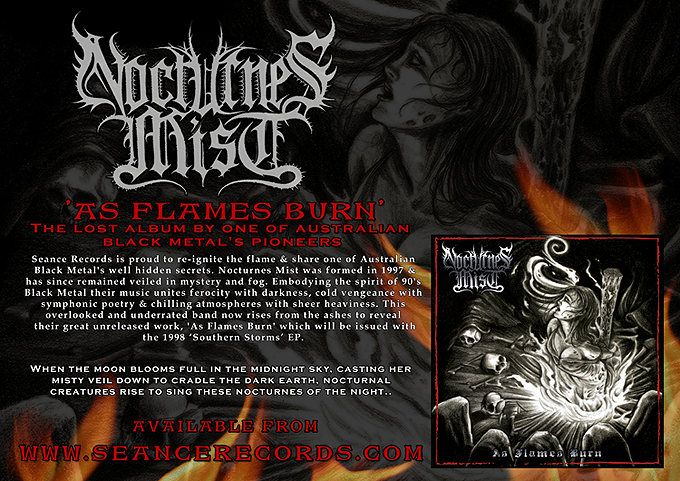 AVAILABLE NOW
ORDER FROM OUR SHOP SECTION
LISTEN TO A SAMPLE HERE
NOCTURNES MIST - 'AS FLAMES BURN'
Seance Records is proud to re-ignite the flame and share one of Australian Black Metal's well hidden secrets.
Nocturnes Mist was formed in 1997 and has since remained veiled in mystery and fog. Embodying the spirit
of 90's Black Metal their music unites ferocity with darkness, cold vengeance with symphonic poetry and chilling
atmospheres with sheer heaviness. This overlooked and underrated band now rises from the ashes to reveal their
great unreleased work, 'As Flames Burn' which will be issued with their 1998 'Southern Storms' EP.
When the moon blooms full in the midnight sky, casting her misty veil down to cradle
the dark earth nocturnal creatures rise to sing these nocturnes of the night..
___________________________________________________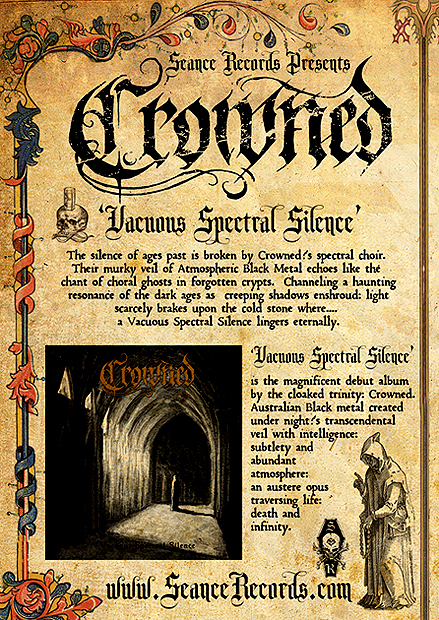 AVAILABLE NOW
ORDER FROM OUR SHOP SECTION
LISTEN TO A SAMPLE HERE
CROWNED - 'VACUOUS SPECTRAL SILENCE'
The silence of ages past is broken by Crowned's spectral choir. Their murky veil of
Atmospheric Black Metal echoes like the chant of choral ghosts in forgotten crypts.
Channeling a haunting resonance of the dark ages as creeping shadows enshroud, light
scarcely brakes upon the cold stone where a Vacuous Spectral Silence lingers eternally.

'Vacuous Spectral Silence' is the magnificent debut album by the cloaked trinity, Crowned.
Australian Black metal created under night's transcendental veil with intelligence, subtlety
and abundant atmosphere, an austere opus traversing life, death and infinity.
___________________________________________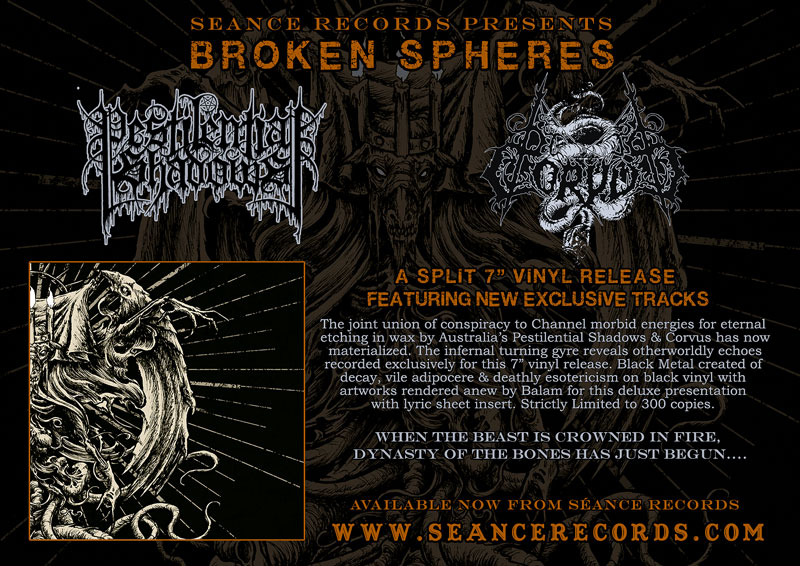 AVAILABLE NOW
ORDER FROM OUR DISTRO SECTION
'BROKEN SPHERES' BY PESTILENTIAL SHADOWS & CORVUS
A SPLIT 7" VINYL RELEASE FEATURING NEW EXCLUSIVE TRACKS.

The joint union of conspiracy to Channel morbid energies for eternal etching in wax by
Australia's Pestilential Shadows & Corvus has now materialized.
The infernal turning gyre reveals otherworldly echoes recorded exclusively for this 7" vinyl release.
Black Metal created of decay, vile adipocere & deathly esotericism on black vinyl with artworks
rendered anew by Balam for this deluxe presentation with lyric sheet insert & stickers.
Strictly Limited to 250 copies
When the best is crowned in fire, dynasty of the bones has just begun…
______________________________________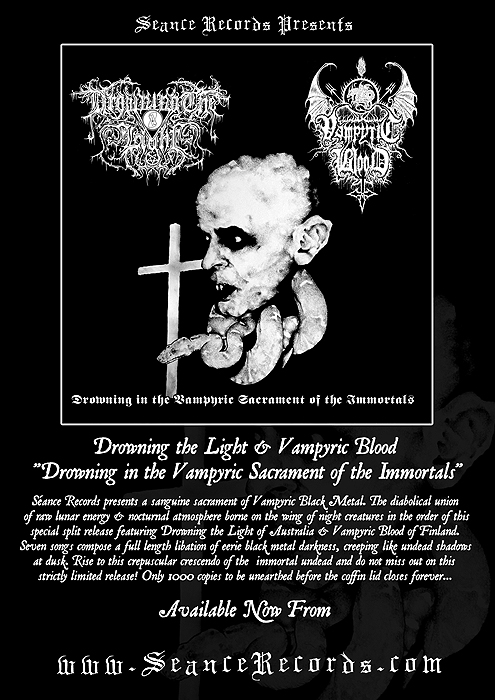 SHIPPING NOW! ORDER YOUR COPY VIA THE SHOP

DROWNING THE LIGHT & VAMPYRIC BLOOD
"Drowning in the Vampyric Sacrament of the Immortals"

Séance Records presents a sanguine sacrament of Vampyric Black Metal.
The diabolical union of raw lunar energy & nocturnal atmosphere borne on the wing
of night creatures in the order of this special split release featuring Drowning the Light
of Australia & Vampyric Blood of Finland. Seven songs compose a full length libation
of eerie black metal darkness, creeping like undead shadows at dusk. Rise to this crepuscular
crescendo of the immortal undead and do not miss out on this strictly limited release!
Only 1000 copies to be unearthed before the coffin lid closes forever…

___________________________________________

AVAILABLE NOW
EREBUS ENTHRONED - 'NIGHT'S BLACK ANGEL'
Debut album - Australian Black Metal
A ceremony of sinister magick before the heart of the great adversary!
Behold! A funeral whirlwind of chthonian darkness made manifest within the belly of the dragon.
Bled dry into the devils chalice flow nine sinister canticles of cruel black art. A new flame of Australian black metal
rises with sinister force in 2011 with their debut album, a mesmerizing ode to evil.
Jewel Case 16 page booklet with original artwork by Balam of Pestilential Shadows.
Listen to Samples from the album HERE
SÉANCE RECORDS PATCHES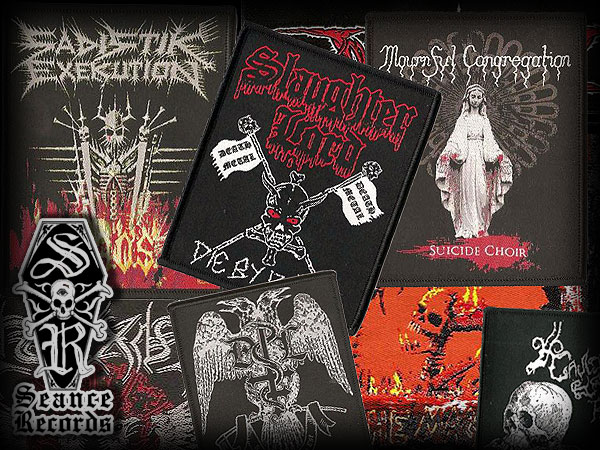 Séance Records releases 100% official patches. All high quality woven patches.
Patches are $8AUDpostage paid within Australia
or $10AUD postage paid outside Australia.
If you are a band or label & would like high quality woven patches
manufactured for you at a reasonable cost please contact us for rates.
SORRY OUR PHYSICAL STORE CLOSED FOR THE NEAR FUTURE
HOWEVER OUR FULL CATALOGUE WILL BE ONLINE SOON &
YOU CAN FOLLOW SÉANCE VIA THE LINKS ABOVE.
NEW STORE IN THE FUTURE...